You are here: Urology Textbook > Prostate > BPH > Treatment algorithm
Treatment Algorithm for Benign Prostatic Hyperplasia (BPH)
Benign prostatic hyperplasia (4/6): treatment algorithm
Review literature: (Burnett und Wein, 2006) (DGU-Guideline: diagnostic workup, 2009) (DGU-Guideline: treatment, 2009) (EAU-Guideline: Oelke et al., 2010)
Absolute Indications for Surgical Treatment of BPH
Surgical Treatment Options:
Medical Treatment for BPH:
BPH medication is indicated for significant and disturbing symptoms and if there are not absolute indications for surgical therapy present (see above). The following drug classes for the treatment of BPH are available, some drugs may be combined:
Herbal extracts
5α-reductase inhibitors
Anticholinergics
Watchful waiting in BPH
Watchful waiting in BPH is possible, if there is no need for surgery and the patient accepts his (moderate) symptoms. 40% of the patients initially assigned to watchful waiting experience improvement of symptoms. 10–27% of the patients are going to have surgery for disease progression, risk factors are prostate volume (>40 ml), PSA concentration (>3.2 mg/ml), and a high IPSS.
Algorithm for Initial Diagnosis and Treatment of Men with LUTS due to BPH
Fig. diagnostic workup of LUTS: algorithm for diagnosis and treatment of BPH at initial presentation, in accordance to the guidelines of the AUA 2003 [Kaplan, 2004a], DGU 2009 (DGU Guideline: diagnostic workup, 2009) (DGU-guideline: treatment, 2009) and EAU 2010 (Oelke et al., 2010):
(*) Despite adequate medical therapy.
(**) Urodynamics should be considered in men under 50 years, in patients over 80 years, more than 300 ml residual urine, maximum urinary flow >15 ml/s, suspected neurogenic lower urinary tract dysfunction, after radical pelvic surgery, after unsuccessful non-invasive therapy.
(***) Not an option after urinary retention or hematuria.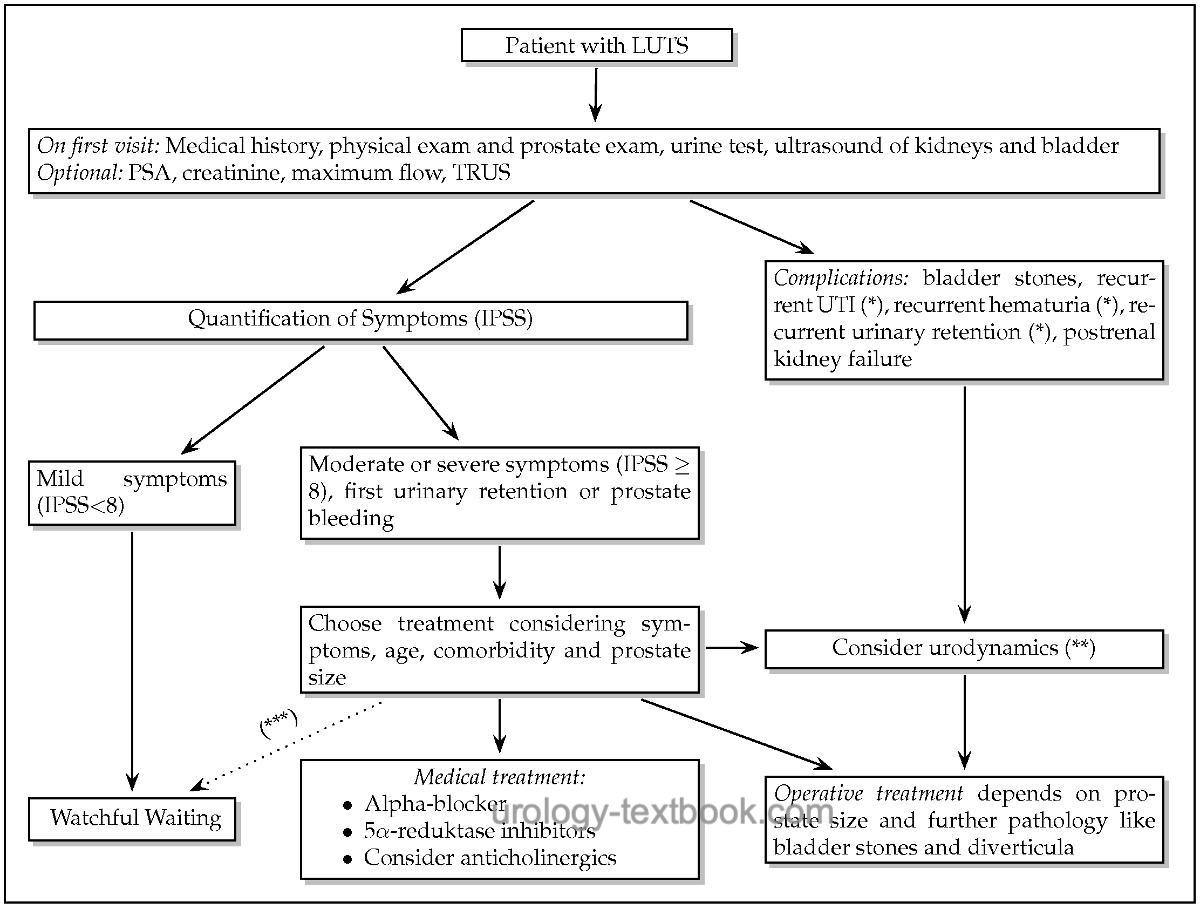 Index: 1–9 A B C D E F G H I J K L M N O P Q R S T U V W X Y Z



---
References


Burnett und Wein 2006 BURNETT, A. L. ; WEIN, A. J.: Benign prostatic hyperplasia in primary care: what you need to know.
In: J Urol
175 (2006), Nr. 3 Pt 2, S. S19–24

Chapple 2004 CHAPPLE, C. R.: Pharmacological therapy of benign prostatic hyperplasia/lower urinary tract symptoms: an overview for the practising clinician.
In: BJU Int
94 (2004), Nr. 5, S. 738–44

DGU-Guidelines: diagnostic workup Leitlinien der Deutschen Urologen zur Diagnostik des benignen Prostatasyndroms (BPS).
In: Urologe A
48 (2009), S. 1356–60, 1362–4

DGU-Guidelines: treatment Leitlinien der Deutschen Urologen zur Therapie des benignen Prostatasyndroms (BPS).
In: Urologe A
48 (2009), S. 1503–1516



Oelke, M.; Bachmann, A.; Descazeaud, A. & Emberton, M. Guidelines on conservative treatment of non-neurogenic male LUTS
www.uroweb.org, 2010.

Reich u.a. 2006 REICH, O. ; GRATZKE, C. ; STIEF, C. G.: Techniques and long-term results of surgical procedures for BPH.
In: Eur Urol
49 (2006), Nr. 6, S. 970–8; discussion 978



Deutsche Version: Therapie der benignen Prostatahyperplasie