You are here: Urology Textbook > Kidneys > Renal artery aneurysm
Diagnosis and Treatment of Renal Artery Aneurysm
Definition of Renal Artery Aneurysm
A renal artery aneurysm is an increase in the renal artery diameter, which is classified according to the specific morphology:
True aneurysm:
True aneurysms (93% of all renal artery aneurysms) involve all vessel layers, and the form may be asymmetric saccular, or uniform cylindric. With increasing diameter, the stability of the arterial wall decreases.
Dissecting aneurysm:
A dissecting aneurysm is created by a tear of the intima with blood flow between the vessel wall layers.
Arteriovenous aneurysm:
An arteriovenous aneurysm is caused by an arteriovenous fistula of the renal vessels.
Pseudoaneurysm or false aneurysm:
A false aneurysm is caused by a hematoma due to a leak of the arterial wall with persistent communication.
Angiography and CT scan of a true left-sided renal artery aneurysm. Treatment is necessary because incomplete annular calcification is present, and the size is over 2.5 cm. With kind permisssion, Prof. Dr. R. Harzmann, Augsburg.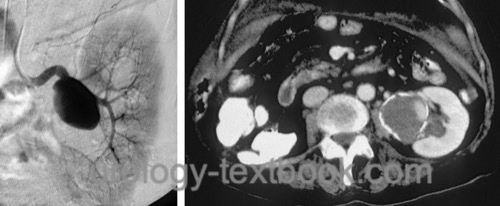 Epidemiology
1:300 to 1:1000, most of them without the need for therapy.
Etiology of renal artery aneurysm
Congenital disorder, arteriosclerosis, traumatic or iatrogenic causes, inflammation.
Signs and Symptoms
In 50%, an aneurysm of the renal artery does not cause any symptoms. Otherwise, patients may present with arterial hypertension, pain, hematuria, abdominal pulsatile mass (rare), or abdominal bruit. Hypotension, shock, and acute abdomen may be caused by a ruptured aneurysm.
Diagnostic Workup of Renal Artery Aneurysm
Computed tomography
Angiography
Treatment of Renal Artery Aneurysm
The indications for endovascular procedures (placement of a stent) or surgical excision and reconstruction of the renal artery are (Nosher et al., 2006):
Pronounced renin-dependent arterial hypertension
Renal ischemia
Incomplete annular calcification
>2.5 cm in diameter
Before pregnancy
Arteriovenous fistula




Index: 1–9 A B C D E F G H I J K L M N O P Q R S T U V W X Y Z



---
References
Nosher, J. L.; Chung, J.; Brevetti, L. S.; Graham, A. M. & Siegel, R. L. Visceral and renal artery aneurysms: a pictorial essay on endovascular therapy.
Radiographics, 2006, 26, 1687-704; quiz 1687.

Deutsche Version: Aneurysma der Nierenarterie