You are here: Urology Textbook > Testes > Epididymitis
Epididymitis
Review Literature: (Luzzi and O'Brien, 2001).
Definition, Classification and Etiology of Epididymitis
Acute or chronic inflammation of the epididymis of various etiologies:
Bacterial epididymitis

Epididymitis secondary to urinary tract infection: E. coli, Proteus, Klebsiella, Pseudomonas, Staphylococci
Epididymitis secondary to sexually transmitted diseases: Chlamydia, Neisseria

Nonbacterial infectious epididymitis: viral, fungal or parasitic etiology
Noninfectious epididymitis: traumatic etiology, autoimmune, amiodarone-induced or idiopathic
Chronic epididymitis: duration longer than six weeks
Chronic epididymalgia: chronic pain felt in the epididymis
Epididymitis: Signs and Symptoms
Testicular pain: tenderness of the epididymis
Tender and swollen spermatic cord
Scrotal swelling and redness
Intact cremasteric reflex, the Prehn sign is not reliable, should be positive (lifting of the testis alleviates the pain).
fever indicates advanced infection.
Complications: abscess, urosepsis, Fournier gangrene.
Diagnosis of Epididymitis
Urethral swab:
Urethral swab and PCR testing for gonorrhea or chlamydial infection if STD are possible.
Urine analysis:
Urine sediment: leukocyturia.
Urine culture: can identify the pathogen, but is negative at 40–90% of patients.
Testicular Ultrasound Imaging
Testicular ultrasound examination is mandatory for differential diagnosis to testicular torsion. In epididymitis, ultrasound imaging shows an enlarged epididymis, often together with a hydrozele [ultrasound imaging: epididymitis]. It is important to rule out abscess formation, involvement of the testicular parenchyma and rule out testicular torsion with Doppler ultrasound (see below).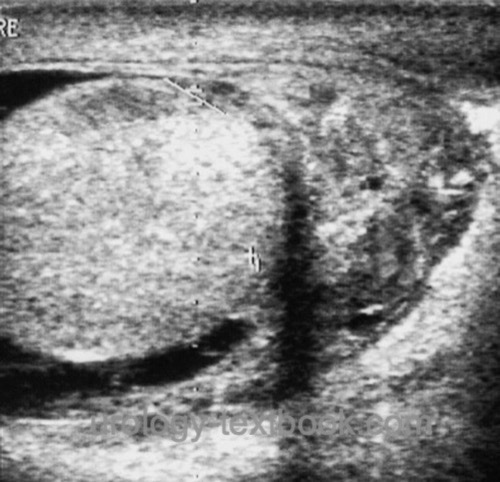 Ultrasound imaging of epididymitis: typical signs are an enlarged epididymis with a hydrocele. With kind permission, N. Wagner, Augsburg.
Doppler ultrasound:
Doppler ultrasound is important for the exclusion of a testicular torsion. Typical findings for an epididymitis are increased testicular perfusion and an enlarged epididymis.
Surgical Exploration of the Scrotum
In the slightest doubt about the diagnosis of epididymitis, a surgical exploration of the scrotum must be done to exclude testicular torsion. When a testicular tumor might be possible, an inguinal approach to the testis should be chosen.
Diagnosing voiding dysfunction
Uroflowmetry, exclusion of residual urine in the bladder, retrograde urethrography and/or cystogram should be performed after healed epididymitis, if a voiding dysfunction is suspected. Voiding dysfunctions are most likely in children and in elderly patients with epididymitis.
Treatment of Epididymitis
Symptomatic Treatment
Bed rest
Elevation and cooling of the testes
Anti-inflammatory drugs such as Dicloenac 75 mg 1-0-1
For the sudden relieve of strong pain: nerve block of the spermatic cord at the external inguinal ring with a long-acting local anesthetic such as ropivacaine
Antibiotic Treatment of Epididymitis
After obtaining a urine culture a calculated antibiotic treatment is initiated:
Suspected sexually transmitted epididymitis:
Ciprofloxacin 500 mg p.o. or ofloxacin 300 mg p.o. or ceftriaxone 250 mg i.m. once followed by doxycycline 100 mg p.o. 1-0-1 for at least 7 days. Alternatives: azithromycin 1 g p.o. once a week.
Epididymitis secondary to urinary tract infection:
Ciprofloxacin 500 mg 1-0-1 or other quinolone for at least 10 days. Alternatives are aminopenicillins with penicillinase inhibitor or oral cephalosporins, if necessary correction of the antibiotic depending on urine culture result.
Surgical Therapy
Epididymectomy: indicated in epididymitis refractory to antibiotic treatment or chronic epididymitis. Local complications are frequent (recurrent infections, impaired wound healing, loss of testicle)
Orchiectomy: indicated in epididymo-orchitis, abscess formation and in epididymitis refractory to antibiotic treatment as an alternative to epididymectomy.




Index: 1–9 A B C D E F G H I J K L M N O P Q R S T U V W X Y Z



---
References
Luzzi und O'Brien 2001 LUZZI, G. A. ; O'BRIEN, T. S.: Acute epididymitis.
In: BJU Int
87 (2001), Nr. 8, S. 747–55



Deutsche Version: Epididymitis: Ursachen und Therapie