You are here: Urology Textbook > Drugs in Urology > Finasteride
Finasteride: Side Effects and Dosage
Mechanism of Action of Finasteride
Finasteride is a selective competitive inhibitor of 5α-reductase type 2 of the prostate, seminal vesicles, and skin. The inhibition lowers the concentration of dihydrotestosterone (DHT) in the prostate. Since DHT causes the androgenic effect in the prostate, inhibiting 5α-reductase reduces prostate volume. Furthermore, finasteride promotes hair growth and prevents further hair loss in patients with male pattern baldness.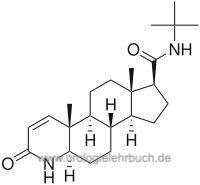 Structural formula of finasteride: the synthetic steroid has a similarity to testosterone.
Indications for Finasteride
Finasteride is indicated in lower urinary tract symptoms or bleeding due to significant benign prostate hyperplasia (>40 ml prostate volume).
The inhibition of the 5α-reductase causes shrinkage of the prostate (7–13 ml in 12 months), improvement of IPSS and LUTS, stronger urinary flow (0,6–1,6 ml/s), lowers the risk of urinary retention (3% vs. 7%), hematuria or surgical interventions (5% vs. 10%) after five years of therapy (McConnell u.a., 1998).
Pharmacokinetics of Finasteride
After metabolization, the metabolites are excreted via the urine and stool. No dosage reduction is necessary in chronic kidney disease (GFR >9 ml/min). Experiences with dialysis patients are not available.
Side Effects of Finasteride
PSA concentration:
Finasteride reduces the PSA concentration by 50% within a year. The ratio fPSA/tPSA is not affected.
Prostate cancer:
In long-term randomized studies with 5α-reductase inhibitors to treat benign prostate hyperplasia, the incidence of prostate cancer was reduced (25% compared to placebo). However, the rate of undifferentiated prostate carcinoma was higher in the verum group and the effect on overall survival was not significant (Goodman et al., 2019).
Sexual side effects:
Often reduced ejaculate volume, decreased libido, gynecomastia (2%), erectile dysfunction (<2%). The risk for infertility (reduced sperm count) is controversial. Libido loss and erectile dysfunction may be permanently disturbed in some patients on long-term use (Traish et al., 2011) and are sometimes referred to as post-finasteride syndrome.
Further side effects:
Rare allergic skin reactions. Unknown frequency or isolated cases: breast cancer, depression.
Drug Interactions with Finasteride
No important drug interactions are known.
Contraindications of Finasteride
Women, pregnancy, children
Dosage of Finasteride
5 mg orally once daily for treatment of BPH. For treatment of male pattern baldness: 1~mg orally once daily.





Index: 1–9 A B C D E F G H I J K L M N O P Q R S T U V W X Y Z



---
References
Andriole u.a. 2004 ANDRIOLE, G. ; BRUCHOVSKY, N. ; CHUNG, L. W. ; MATSUMOTO, A. M. ; RITTMASTER, R. ; ROEHRBORN, C. ; RUSSELL, D. ; TINDALL, D.: Dihydrotestosterone and the prostate: the scientific rationale for 5alpha-reductase inhibitors in the treatment of benign prostatic hyperplasia.
In: J Urol
172 (2004), Nr. 4 Pt 1, S. 1399–403




Chapple 2004 CHAPPLE, C. R.: Pharmacological therapy of benign prostatic hyperplasia/lower urinary tract symptoms: an overview for the practising clinician.
In: BJU Int
94 (2004), Nr. 5, S. 738–44





J. D. McConnell et al., "The effect of finasteride on the risk of acute urinary retention and the need for surgical treatment among men with benign prostatic hyperplasia. Finasteride Long-Term Efficacy and Safety Study Group," vol. 338, no. 9, pp. 557–63, 1998.



Traish, A. M.; Hassani, J.; Guay, A. T.; Zitzmann, M. & Hansen, M. L. Adverse side effects of 5α-reductase inhibitors therapy: persistent diminished libido and erectile dysfunction and depression in a subset of patients.
J Sex Med, 2011, 8, 872-884.




Deutsche Version: Finasterid