You are here: Urology Textbook > Prostate > Prostatic cysts
Prostate cysts: Symptoms, Diagnosis and Treatment
Definition
Prostate cysts are fluid-filled cavities in the prostate, usually lined by epithelium (true cysts).
Epidemiology:
5–8% of men have small prostatic cysts (Ishikawa et al., 2003).
Etiology and Pathology of Prostate Cysts
Depending on the localization, cysts are divided into median (midline cysts) or peripheral (lateral) cysts:
Utricle cyst:
A utricle cyst (or Müllerian duct cyst) presents with a midline cyst of the prostate and originates from the utricle. Histologically, a high PSA expression is typical. Squamous epithelium is not typical for a utricle cyst.
Persisting Müllerian Duct Syndrome:
Persisting Müllerian duct syndrome may cause large solid and cystic pelvic masses near the midline. Pathologic examination shows squamous epithelium analogous to the vagina and, in some cases, uterine tissue.
Other Causes of Prostatic Cysts:
Cysts derived from seminal vesicles, seminal tract or prostate gland, caused by infection, BPH or malignant tumors (Galosi et al., 2009).
Signs and Symptoms of Prostatic Cysts
Small cystic lesions are usually asymptomatic and clinically insignificant. Larger cysts may cause:
Diagnostic Workup
Transrectal ultrasonography [fig. prostatic cyst in TRUS]
Abdominal ultrasonography: pelvic masses? Residual urine?
Urinary flow test
Cystoscopy
CT or MRI for larger or complex cysts (Curran et al., 2007)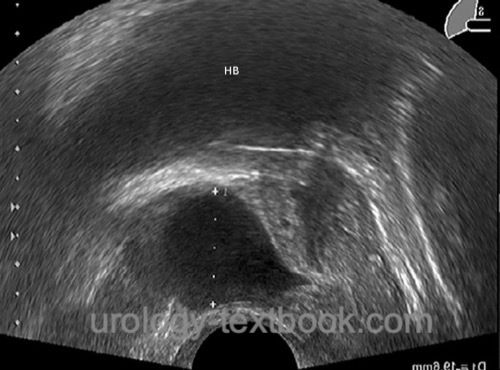 Transrectal ultrasonography (sagittal section): asymptomatic prostate cyst between the bladder (HB) and rectum; the extension to the verumontanum speaks for a utricle cyst.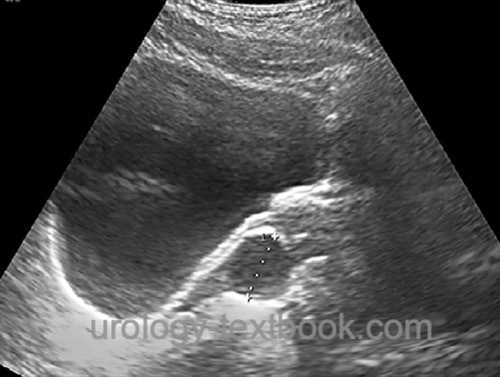 Abdominal ultrasound imaging using the bladder as an acoustic window (sagittal section).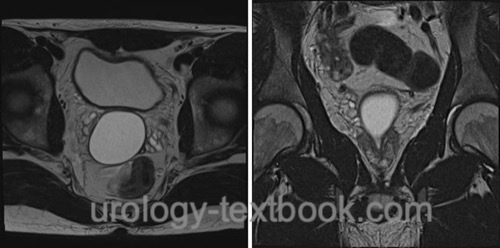 MRI of the prostate (left the horizontal plane and right the frontal plane, T2-weighted image): typical finding of a utricle cyst, a pear-shaped prostatic cyst extending to the verumontanum. With kind permission, Radiologie im Zentrum: Dres. Engels, Trenschel, Kiebach, Kosch, Auer, Prof. Stahl, Augsburg.
Differential Diagnosis of Prostatic Cysts
Defect after TURP, diverticulum or bladder or urethra, prominent seminal vesicles, Ectopic ureter or ectopic ureterocele.
Treatment of Prostatic Cysts
Small symptomatic prostatic cysts can be treated by transurethral resection [fig. transurethral deroofing of a prostatic cyst]. Large pelvic masses of the Müllerian duct system may need open surgery or laparoscopic surgery. Typical open surgical approaches are either a lower abdominal incision with a transvesical-transtrigonal approach or the perineal approach.





Index: 1–9 A B C D E F G H I J K L M N O P Q R S T U V W X Y Z



---
References
S. Curran, O. Akin, A. M. Agildere, J. Zhang, H. Hricak, and J. Rademaker, "Endorectal MRI of prostatic and periprostatic cystic lesions and their mimics.," AJR. American journal of roentgenology, vol. 188, no. 5, pp. 1373–1379, 2007.
Galosi, A. B.; Montironi, R.; Fabiani, A.; Lacetera, V.; Gallé, G. & Muzzonigro, G. Cystic lesions of the prostate gland: an ultrasound classification with pathological correlation.
J Urol, 2009, 181, 647-657
M. Ishikawa et al., "Midline Prostatic Cysts in Healthy Men: Incidence and Transabdominal Sonographic Findings," American Journal of Roentgenology, vol. 181, no. 6, pp. 1669–1672, 2003.
M. Ishikawa et al., "Midline prostatic cysts in healthy men: incidence and transabdominal sonographic findings.," AJR. American journal of roentgenology, vol. 181, no. 6, pp. 1669–1672, 2003.

Deutsche Version: Ursachen und Therapie von Prostatazysten