You are here: Urology Textbook > Urologic surgery > Groin surgery
Groin Surgery: Approach to Inguinal Lymph nodes
Urologic Indications
Penile cancer
Cancer of the distal urethra
Preoperative Patient Preparation
Patient positioning: supine position with slight abduction of the hip and flexion of the knee
General or spinal anesthesia
Surgical Technique: Inguinal Approach
Skin incision 3 cm below and parallel to the inguinal ligament, see fig. groin surgery
Straight dissection of the subcutaneous tissue through the fascia of scarpa to the fascia lata. The skin should be dissected together with the subcutaneous tissue to preserve the supplying vessels.
Identification and isolation of the great saphenous vein and superficial veins near the fossa ovalis (superficial epigastric, superficial iliac circumflex, and superficial external pudendal veins).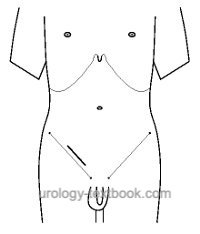 Groin incision to approach the inguinal lymph nodes: skin incision 3 cm below and parallel to the inguinal ligament






Index: 1–9 A B C D E F G H I J K L M N O P Q R S T U V W X Y Z



---
References

Deutsche Version: Operativer Zugang zu den inguinalen Lymphknoten