You are here: Urology Textbook > Urologic surgery > Gibson incision
Gibson Incision: Indications, Anatomy and Surgical Technique
Urologic Indications
In urology, a Gibson incision is used for kidney transplantation or as an extraperitoneal approach to the distal ureter with low morbidity.
Preoperative Patient Preparation
Surgical Technique of a Gibson Incision
For the skin incision see fig. gibson incision
The external oblique abdominal muscle is divided in the direction of the muscle fibers.
The internal oblique and transverse abdominal muscles are cut at the lateral edge of the rectus sheath in the area of their aponeurosis. Caudally, the lateral edge of the rectus muscle can be incised for a better approach.
The inferior epigastric vessels are transected between ligatures.
With blunt dissection, the peritoneum is pushed off cranially and medially to expose the iliac vessels and ureter.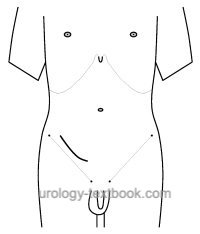 Gibson incision: the arc-shaped incision starts 2 cm medial to the spina iliaca ant. sup. and continues to the rectus sheath's lateral border (3 cm cranial to the inguinal ligament).
Wound closure:
Fascial closure in two layers with continuous running or interrupted sutures: first suture reapproximates the internal oblique and transverse abdominal muscle, second suture closures the external oblique abdominal muscle.






Index: 1–9 A B C D E F G H I J K L M N O P Q R S T U V W X Y Z


References
J. A. Smith, S. S. Howards, G. M. Preminger, and R. R. Dmochowski, Hinman's Atlas of Urologic Surgery Revised Reprint. Elsevier, 2019.

Deutsche Version: Schräger Unterbauchschnitt nach Gibson