You are here: Urology Textbook > Drugs in Urology > Dapoxetin
Side Effects, Contraindications and Dosage of Dapoxetine
Mechanism of Action of Dapoxetine
Dapoxetine is a selective serotonin reuptake inhibitor (SSRI) with a short duration of action. Since 2009, dapoxetine received approval for the on-demand treatment of premature ejaculation. Dapoxetine leads to a delay of the ejaculation reflex and extends the IELT (intravaginal ejaculatory latency time).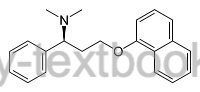 Structural formula of dapoxetine.
Indications for Dapoxetine
Premature ejaculation (IELT under 2 min) in men 18–65 years old with high distress and lack of improvement after medical advice.
Clinical Effect of Dapoxetine
The largest randomized study included 1162 patients (n=385 placebo, n=388 with 30 mg dapoxetine and n=389 with 60 mg dapoxetine) [Buvat 2009]: baseline IELT at the beginning of the study was 1 minute; after 24 weeks of treatment IELT increased to 1.9 min (placebo), 3.2 min (30 mg dapoxetine) and 3.5 min (60 mg dapoxetine). Therapy assessment by patients after 24 weeks (vs placebo. 30 mg vs. dapoxetine 60 mg): No change or worse: 68% vs. 42% vs. 28%. Somewhat better or better: 28% vs. 48% vs. 60%. Much better: 4% vs. 10% vs. 12%.
Pharmacokinetics of Dapoxetine
Dapoxetine is rapidely absorbed after oral ingestion with a maximum plasma concentration after 1–2 h. Bioavailability 15–76%, food has only a minimal influence. 99% plasma protein binding. Dapoxetine is inactivated in the liver and kidneys by cytochrome (CYP2D6 and CYP3A4) and monooxygenases. The metabolites are excreted via the urine. Depending on the frequency of intake, the elimination half-life varies between less than one hour to 19 h.
Side Effects of Dapoxetine
Data about side effects of dapoxetine is based on 4224 patients with premature ejaculation from placebo-controlled studies. Most often, nausea (2.2% of patients) and dizziness (1.2% of patients) led to discontinuation of therapy.
CNS:
Often: anxiety, restlessness, somnolence, tremor. Occasionally: depression, mood changes, thought disorder, syncope, dizziness.
Senses:
Blurred vision, tinnitus, vertigo.
Cardiovascular system:
Bradycardia, tachycardia, hypotension or hypertension.
Gastrointestinal tract:
Very often nausea (over 10%). Often: diarrhea, vomiting, abdominal pain, flatulence ...
Interactions
Dapoxetine should not be combined with MAO inhibitors or selective serotonin reuptake inhibitors, since a serotonin syndrome may develop. No combination with ketoconazole or other inhibitors of CYP3A4. No combination with thioridazine.
Contraindications of Dapoxetine
Hepatic insufficiency (Child B + C)
Cardiac diseases
Depression or psychiatric medication: treatment with MAO inhibitors, SSRIs, or thioridazine.
Dosage of Dapoxetine
Dosage 30 mg one to three hours before planned sexual activity. Dapoxetine should only be taken once a day. In the case of inefficacy without side effects, the dosage may be increased to 60 mg.

The treatment costs amounted in 2009 between 12–19 Euro per dosage, depending on dosage and package size.





Index: 1–9 A B C D E F G H I J K L M N O P Q R S T U V W X Y Z



---
References
Buvat, J.; Tesfaye, F.; Rothman, M.; Rivas, D. A. & Giuliano, F.
Dapoxetine for the Treatment of Premature Ejaculation: Results from a Randomized, Double-Blind, Placebo-Controlled Phase 3 Trial in 22 Countries.
Eur Urol, 2009