You are here: Urology Textbook > Urologic surgery > Lower midline incision
Lower Midline Incision
Urologic Indications
In urology, a lower midline incision is used for an extraperitoneal approach to the prostate, bladder, distal ureters and pelvic lymph nodes. In case of unexpected intraoperative situations, a lower midline incision can be easily extended.
Preoperative Patient Preparation
Surgical Technique of a Lower Midline Incision
Skin incision see fig. lower midline incision
Cut through the subcutaneous fat tissue and expose the rectus sheat
Division of the linea alba and fascia transversalis. Blunt dissection of the Retzius' space.
Using blunt dissection, the peritoneum is pushed superiorly and medially to expose the iliac vessels, spermatic cord and ureter.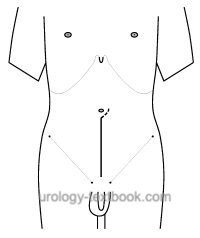 Lower midline incision





Index: 1–9 A B C D E F G H I J K L M N O P Q R S T U V W X Y Z



---
References